NREPA
The Northern Rockies Ecosystem Protection Act
"Some of the nation's last remaining elk herds and grizzly bears are managing to survive in these areas. If we allow further development we're actually offering taxpayer money to finance the depletion of the land and the species." — Rep. Carolyn Maloney
The Northern Rockies Ecosystem Protection Act (H.R. 996) is the legislative realization of AWR's vision: bioregion-wide protection of the wildlands of the Northern Rockies.The wildest bill on the hill continues to gain support on the hill. Write to your representative and encourage him or her to cosponsor this landmark legislation.
The Northern Rockies Ecosystem Protection Act has endorsements from President Jimmy Carter, world-renowned scientists, and more than 700 organizations and businesses nationwide, including the national Sierra Club. Read more endorsements from across the country.
The Northern Rocky Mountains encompass the last great expanse of native biodiversity in the contiguous United States. This bioregion—known as America's Serengeti—is the last stronghold of the grizzly bear, the woodland caribou and the bull trout. It contains all the species present at the time of the Lewis & Clark Expedition two hundred years ago, including free-roaming populations of bison, bighorn sheep, elk, moose, wolves, mountain lions and hundreds of others. They roam the region's great forests and native grasslands. Salmon and trout still make their epic migrations from the sea, more than 900 miles inland, to high mountain tributaries along the Great Divide.
Congress has made great strides in protecting a portion of this great region, designating some areas as wilderness, and others as national parks such as Yellowstone and Glacier. However, more than 20 million acres of these unspoiled lands remain unprotected and increasingly vulnerable to being lost forever through excessive roadbuilding, forest clearcutting, mining and other developments that mar the beauty of the landscape. Adding economic insult to injury, corporations receive federal subsidies for logging through money-losing timber sales. That is, the federal government sells the development rights for logging at below-cost rates. We're literally paying for the destruction of our last wild forests.
"Protecting our wild landscapes and natural resources is not a liberal or conservative goal — it's our responsibility as Americans." — Congressman Raúl Grijalva
To reverse this alarming trend, common citizens from all walks of life, scientists, and economists have developed a plan to protect the Northern Rockies Ecosystem. The Northern Rockies Ecosystem Protection Act (NREPA) is sponsored by a bipartisan coalition in the U.S. Congress led by Rep. Carolyn Maloney (D-NY) and Rep. Raúl Grijalva (D-AZ).
---
Biological Linkage Corridors
Two hundred years ago the Northern Rockies was one vast, unspoiled wilderness. Today, human settlements, agriculture and a growing network of roads and rail lines occupy most of the valleys between remaining wild habitats. To prevent the isolation of wildlife in small pockets which eventually succumb to the effects of small population size and inbreeding, scientists have pioneered the concept of biological linkage corridors that connect the core wildlands of a region into a functioning ecological whole.
These biological bridges allow for animal, fish and plant migration, and the genetic interchange vital to longterm health and viability. NREPA puts this concept into practice through its designations of Biological Linkage Corridors and through the expansion of Wild & Scenic Rivers that maintain free-flowing rivers essential to fish migration.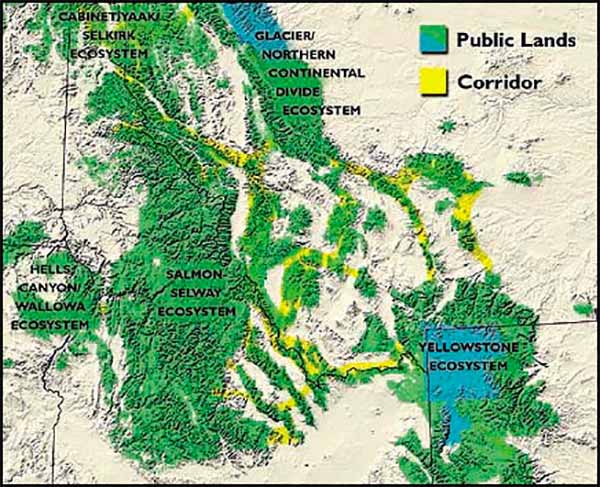 ---
Key Points Addressed by NREPA
Uses sound science to protect and restore endangered wildlife
Uses sound economics to promote sustainable economic development in the Northern Rockies region
Creates thousands of good paying jobs restoring damaged habitats
Pays for job creation by ending taxpayer-supported corporate timber subsidies
Does not close access to public lands
Allows for historic uses such as hunting, fishing and firewood gathering
Affects only Federal public lands—private landowners are not impacted
Respects and honors Native American religions and treaty rights
Protects watershed health—water supply and quality are issues of central importance in the semiarid interior mountains, the Great Plains, and the densely populated Northwest
Protects lands virtually unchanged since Lewis and Clark saw them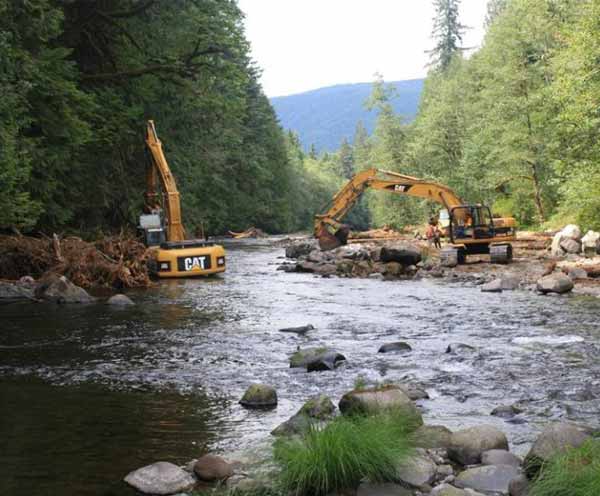 ---
Economic Benefits of NREPA
"Our economic future is tied to protecting the unique qualities of the natural landscape in the Northern Rockies" — Dr. Thomas Power, Chairman, Economics Department, University of Montana
NREPA makes solid economic as well as environmental sense. Millions of taxpayer dollars are spent each year subsidizing the clearcutting of our national forests in the Northern Rockies. People live and work in the Northern Rockies because of its natural beauty. The economic vitality of the Northern Rockies states is dependent on their high quality natural environment, not the declining extractive industries. Further damage to these pristine areas threatens the economic base of the region. Protecting these lands will create more jobs than if they are degraded.
NREPA provides a net savings of more than $245 million over the first ten years after passage by prohibiting below-cost roadbuilding and timber sale programs within sensitive roadless areas
NREPA won't "lock up" public lands. Approximately 50% of publicly managed lands in the region will be managed for sustainable uses
NREPA protects the economic base of the region: clean water, wildlife, fish, recreation, jobs and the unsurpassed natural beauty
NREPA creates more than 2,300 jobs restoring damaged lands and watersheds––good wage jobs that restore wildlife and fish habitat and add to economic growth
NREPA is based on sound science, sustainable economic models and environmental law that will provide long-term stability that is vital to intelligent economic planning and prosperity
---
NREPA Designations
The Northern Rockies Ecosystem Protection Act differs from traditional state-by-state wilderness bills by offering a variety of designations designed to work in concert to achieve one goal: protection of an entire, functioning ecosystem. These designations are based on the best science on ecological and watershed features—not arbitrary political boundaries.
Wilderness
NREPA affords America's pristine roadless lands with their highest level of legal protection—designation under the 1964 Wilderness Act. These designations (20,572,147 acres) complete the visionary work enacted by previous Congresses and fill important ecological gaps overlooked when our understanding of conservation biology was less advanced.

Wild and Scenic Rivers
NREPA protects 1,810 miles of headwaters rivers which feed three different oceans. Wild, Scenic and Recreational River designations will protect these rivers and safeguard ancient migration routes for numerous species of salmon, steelhead, and native trout including bull trout. World-class rafting and boating opportunities will also be preserved while assuring steady flows of high quality water for downstream users.

Biological Linkage Corridors
NREPA safeguards against habitat fragmentation by establishing a system of Biological Linkage Corridors to connect the region's core wildlands into a functioning ecological whole. These areas would be protected as wilderness and as special management zones (3,476,118 acres) where development is limited, but not prohibited.

---
National Wildland Recovery System
NREPA establishes a pilot system of Wildland Restoration Areas (1,022,769 acres) and creates jobs restoring damage caused by unwise resource extraction practices. Efforts will focus on removal of excess and unneeded roads, reduction of soil erosion, and restoration of native vegetation and water quality. Native fisheries and wildlife populations will be rejuvenated while boosting the economy in rural communities formerly dependent on resource extraction.
Native American Religious and Treaty Rights
NREPA respects and honors the rights and religious practices of our first citizens. The Badger–Two Medicine area adjacent to Glacier National Park is designated The Blackfeet Wilderness where traditional Native American uses and treaty rights are fully protected. All areas designated through NREPA explicitly recognize and protect these rights.

National Park and Preserve Study Areas
NREPA establishes two potential additions to our national park system: Hells Canyon-Chief Joseph National Park & Preserve Study Area (1,439,444 acres) along the Oregon/Idaho border and the Flathead National Preserve Study Area (285,078 acres) adjacent to Glacier National Park. Preserve status prohibits developments which impair natural and scenic values, while traditional uses such as hunting, fishing, and firewood gathering and some motorized uses, would continue.