2005 Wild Rockies Rendezvous
September 23 to 25, 2005
Wilderness Gateway Campground on the Clearwater National Forest
You are invited to attend a weekend of events including workshops, roundtable discussions, hiking and live music.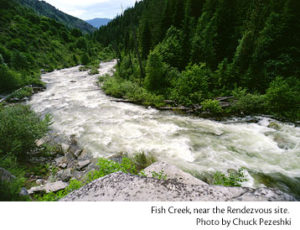 A coalition of environmental groups and interested citizens from the Wild Rockies region of Montana, Idaho, Wyoming, Washington and Oregon will be gathering September 23 to 25, 2005 in the Clearwater National Forest, Idaho for the annual "Wild Rockies Rendezvous."
The purpose of the Wild Rockies Rendezvous is to learn about and discuss issues related to wilderness protection, forest restoration, ecosystem defense and the critters and people who call the Wild Rockies home.
Nestled along the banks of the Wild and Scenic Lochsa River at the Wilderness Gateway Campground on the Clearwater National Forest, the theme of this year's Rendezvous is "Recharge Your Soul: Take a Wild Weekend for the Wild Rockies."
"We invite everybody to celebrate the wilderness and the Rockies Prosperity Act which will formally designate as wilderness all roadless lands in the Northern Rockies. The Rockies Prosperity Act now has 180 sponsors in Congress," said Michael Garrity, Execuitive Director of the Alliance for the Wild Rockies, Missoula-based environmental group.
The Rendezvous will include roundtable discussions on wilderness, ecological restoration and the future of the environmental movement in the Wild Rockies region, with an exchange of viewpoints from noted conservationists.Ê Other activities include hikes through proposed wilderness areas, workshops on forest monitoring and live music by Dana Lyons and the Mike Bader Blues band.
Sponsors to date include: Alliance for the Wild Rockies, the Ecology Center, Wilderness Watch, NREPA Network, Conservation Northwest, Wildlands CPR, Kootenai Environmental Alliance, the Lands Council, Seeds of Peace, American Wildlands, Selkirk Conservation Alliance, Friends of the Wild Swan, Friends of the Clearwater, Friends of the Bitterroot, Swan View Coalition, Hells Canyon Preservation Council, Blue Mountains Biodiversity Project, Western Watersheds Project, Native Forest Network, National Forest Protection Alliance.