by Andrew Buncombe in Washington
Not one brick has been laid, not one piece of timber has been erected. But already this home comes with a price tag of $155m (£79m) and has triggered considerable controversy.
The price for the property being planned for central Montana by a US real estate magnate makes it, in theory, the most expensive property in the world – beating the record held by an unsold 103-room mansion in Windlesham, Surrey, with an asking price of $139m.
The Montana property is being built by Tim Blixseth, a one-time singer-songwriter who turned to business after failing to hit the big time. As planned, the 53,000 sq ft stone and wood property will be located on the grounds of the Yellowstone Club, a private ski and residential resort that Mr Blixseth has developed near Bozeman.
"I can't believe the interest," Mr Blixseth told Forbes magazine. "Some of [the world's richest] just have to have the best. Price is not an issue."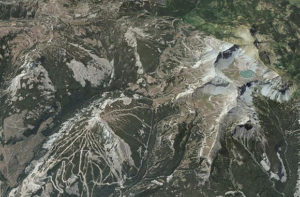 The Yellowstone Club (Lower Left) and the surrounding
grizzly habitat in the Gallatin NF/Lee Metcalf Wilderness.
Yellowstone Club
The Yellowstone Club (Lower Left) and the surrounding grizzly habitat in the Gallatin NF/Lee Metcalf Wilderness.
But not everyone is enamoured by Mr Blixseth's plan. Local environmentalists have complained that private clubs such as the Yellowstone, where members must have at least $3m in assets and pay a joining fee of $250,000, are damaging Montana's environment and pushing up property prices to the detriment of local people. They also point out that Mr Blixseth has a record of planning and environmental infractions and has been fined millions of dollars by state and federal authorities.
"Twenty years ago that whole area up there used to be a great place for the grizzly, the elk and all of the animals. Now it's all houses and roads," said Joe Gutkoski, president of Montana River Action, an environmental group. "Montana is kind of a magical word in the US and we have very wealthy people and they have the dollars to pay for outlandish activities. Blixseth is there to accommodate them."
Reports show that the Yellowstone Club – which employs 400 people and whose members reportedly include former vice-presidential candidates Dan Quayle and Jack Kemp, tennis player Annika Sorenstam and cyclist Greg LeMond – has been fined on a number of occasions for building and environmental violations. In 2004, it was fined a record $1.8m by the Environmental Protection Agency for pollution related to golf course and ski slope erection.
The Bozeman Daily Chronicle reported that Mr Blixseth admitted no guilt, but paid the fines anyway. Then, in November 2005, the agency issued a $165,000 fine to another private Montana resort owned by Mr Blixseth, Lone Moose Meadows, for allegedly destroying wetlands during ski facility construction.
Michael Garrity of Alliance for the Wild Rockies, said: "These private clubs require tremendous amounts of resources. Blixseth has taken high-quality grizzly bear habitat and turned it into a play area for multi-millionaires."
No one from the club was available for comment yesterday. The house, set on 160 acres, will include a chairlift to take the owner to the club's private ski slopes, an indoor/outdoor swimming pool and a home cinema.
Background on Blixseth
excerpted from an October 27, 2006 By Anthony Effinger for Bloomberg.com
http://www.bloomberg.com/apps/news?pid=email_en&refer=home&sid=am9JkhotUrPs
(Bloomberg) — Tim Blixseth, a rags-to-riches timber baron, likes the good things in life, and he likes having them to himself. He lives on a private 18-hole golf course near Palm Springs, California. He also controls a ski resort in Montana called the Yellowstone Club that he shares with a hand-picked group including Microsoft Corp. chairman Bill Gates.
The mountain has 13 lifts. Trail names include Learjet Glades and Ebitda, which is Wall Street shorthand for earnings before interest, taxes, depreciation and amortization.
Members can play golf and fish in the Gallatin, a river featured in the Robert Redford film "A River Runs Through It." Security is run by Bruce Bales, a U.S. Secret Service veteran. Bales's new title: director of privacy…
Blixseth is an unlikely magnate. The son of Norwegian immigrants, he grew up poor in Roseburg, Oregon, on the rain- soaked west side of the Cascade Range, and worked in local lumber mills in high school. He says he got a taste for deal making when he bought three donkeys for $75 and resold them for $225.
Once he had a nest egg, he started buying and selling small parcels of timberland.
Trust
"He's the world's best deal maker," says Allyn Ford, president of Roseburg Forest Products Co., who bought land from Blixseth. "He's able to elicit people's trust."
After swapping land, Blixseth got into the lumber business directly, owning sawmills. His run ended in the 1980s, when interest rates soared and lumber prices tumbled. In 1986, he and his wife, Edra, declared bankruptcy. They listed $15.4 million in debts and $4,400 of assets, all household items and clothing.
The proceedings turned contentious, and two years later, the trustee for the estate, Eric Roost, sued the Blixseths, alleging that they had failed to report ownership of luxury goods that should have been included in the estate.
Among them were a Canadian baby lynx fur coat valued at $17,000; a natural-white, full-length mink coat valued at $8,995; a 14-karat gold ring with a 1.198-carat diamond valued at $10,800; and a second gold ring with a 1.27-carat diamond valued at $13,700. Blixseth settled the matter by producing the property and purchasing it from the estate for $20,300.
Crown Pacific
While still hashing out his bankruptcy, Blixseth approached Peter Stott, founder of Portland, Oregon-based trucking company Market Transport Ltd., and asked him to put up money for a new timber venture, Stott says.
They formed Crown Pacific Ltd. and, in 1988, bought 257,000 acres of timberland in Idaho and Oregon from the late British financier Sir James Goldsmith for $67.5 million. The pair accumulated more land after that and, with timber prices rising again, profited by logging some tracts aggressively and by selling smaller ones.
"We hit the market at a very good time," Stott says. He and partner Roger Krage bought Blixseth's stake in 1991.
The following year, Blixseth formed Big Sky Lumber Co. and bought 164,000 acres from Plum Creek Timber Co. in southwestern Montana. The price was about $25 million, Blixseth says.
Subdivided
Big Sky Lumber set off alarms when it subdivided the timberland into smaller parcels to sell as home sites, according to Bob Dennee, a staff officer with the U.S. Forest Service in Bozeman, Montana.
The Forest Service was keen to get Big Sky Lumber's lands around the Taylor Fork of the Gallatin, just north of Yellowstone National Park. Elk calve there and endangered grizzly bears feed on the offspring. Building houses and roads there would have compromised the bears' hunting grounds.
"It's the most productive grizzly bear habitat outside of Yellowstone Park," Dennee, 58, says.
To get Big Sky Lumber out of the Taylor Fork, the Forest Service, directed by the U.S. Congress, negotiated land swaps with Blixseth from 1993 to 1998. Some of the land that Blixseth got became skiing terrain at the Yellowstone Club.
Though many environmentalists supported the land exchanges, others criticized them, saying that Blixseth's allies in Congress helped him fast track the deals.
Undercut
Often, land swaps are handled internally by federal agencies like the Forest Service, which require greater environmental review, formal public comment and the right to appeal the trades, says Janine Blaeloch, director of the Western Lands Project, a Seattle-based organization that tracks land swaps. Involvement by Congress undercut the process in the Gallatin, she says.
The Forest Service also purchased land from Blixseth outright. The agency and several partners paid $16 million for 8,100 acres around Porcupine Creek that Blixseth had subdivided. By selling 5 percent of the land he got from Plum Creek, Blixseth recouped 64 percent of his money.
"He made one heck of a good investment," Dennee says.
Blixseth named his private Rancho Mirage golf course Porcupine Creek, after the sale, he says.
Blixseth got off to a rocky start in Montana. Starting in 1997, workers building the Yellowstone Club discharged rock and dirt into Gallatin tributaries without a proper permit, according to a complaint filed in federal district court in Billings, Montana, by the U.S. attorney's office there. The club graded and filled streams and wetlands without permits, drawing 60 violations of the Clean Water Act.
Bulldozed
Ski areas operating on public lands, as most in the Western U.S. do, cut only the trees to make their runs, leaving plants in place to prevent erosion. Blixseth scraped all the vegetation to alter the pitch and fall line of the runs, says Kris Knutson, a scientist with the U.S. Environmental Protection Agency.
"They bulldozed all the ski runs," Knutson says. One, American Spirit, had an erosion gully 6 feet deep, she says.
The EPA and the U.S. Justice Department settled with the Yellowstone Club in 2004. The club agreed to pay a $1.8 million civil penalty without admitting guilt. It was the largest fine ever won by the EPA for the unauthorized discharge of dredged material.