By Michael Wright – Chronicle Staff Writer
Originally published here.
An environmental group's proposal to designate roadless areas in the western United States as wilderness has been introduced in the U.S. Senate for the first time after more than two decades of stalling in the U.S. House.
Called the Northern Rockies Ecosystem Protection Act, the bill would designate 23 million acres of roadless areas as wilderness and 1,800 miles of streams as Wild and Scenic Rivers in the name of preserving wildlife habitat.
The measure is being pushed by the Alliance for the Wild Rockies. It has been introduced in the U.S. House in every Congressional session since 1992. This year, though, is the first time it has been put forward in a Senate bill.
Mike Garrity, executive director of the group, said he doesn't think it will pass but that introducing the Senate bill is a major step forward.
"This demonstrates that we are making progress," he said.
The bill is co-sponsored by seven Democrats, including Senate Minority Leader Harry Reid of Nevada. Neither of Montana's senators have signed on to the bill.
Democratic Sen. Jon Tester said in a statement that Montana has special places that need protection, but he still opposes the bill.
"I oppose the Northern Rockies Ecosystem Bill because it lacks the kind of broad support we've come to expect on western public land issues," Tester said.
Jason Thielman, the chief of staff for Republican Sen. Steve Daines, dismissed the bill in a statement.
"This is an extreme proposal from a fringe environmental group whose made it their mission to sue against responsible timber projects, costing Montana jobs, and blocking needed work to improve the health of our forests," Thielman said.
The group does routinely sue the government over timber sales or other actions that they believe will harm wildlife and that skirt environmental laws. One such case is over a thinning project south of Bozeman, known as the Bozeman Municipal Watershed project. A federal judge recently decided to continue an existing stay on that case.
Garrity said that those activities are simply to make sure the government follows the law, and that he doesn't know how that makes Alliance for the Wild Rockies a "fringe group."
"If they don't like it, quit breaking the law," he said.
Garrity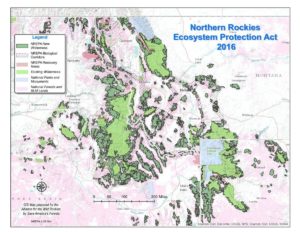 said the Northern Rockies Ecosystem Protection Act is meant to protect the areas that are already wild and preserve corridors through which wildlife can travel and connect with other populations. Many biologists say habitat connectivity is very important for the long-term viability of a species because it increases genetic diversity, and Garrity said that is what the bill is aiming for.
He also said that the bill wouldn't prevent the U.S. Forest Service from having timber sales because many of their targeted spots aren't within roadless areas.
The Northern Rockies Ecosystem Protection Act proposes wilderness designations for roadless areas across Montana. Portions of the Bridger, Tobacco Root and Centennial mountains would be included, along with the Gallatin Range and many other places around the state. It also includes portions of Wyoming, Idaho, Oregon and Washington.
It also includes a portion meant to provide for the restoration of more than 1 million acres of habitat. 
No senator from any of the impacted states has sponsored the bill.
Michael Wright can be reached at mwright@dailychronicle.com or at 582-2638. Follow him on Twitter @mj_wright1.